Our Showroom is now open Mon-Fri 7:30 am to 5:00 pm and by appointment
Commercial Products
Division 08 – Commercial Doors, Frames and Hardware
WE have a wide variety of products to meet your commercial needs from fire doors, office doors, heavy duty entranceways and specialty hardware to electronic access systems. Contact us to help you determine what we can work out that is best for you.
Division 10 – Bath partitions and accessories
Our toilet partition material choices and mounting styles provide building owners many options from stainless steel, power coated steel, solid plastic, to solid phenolic (black core and color-thru) and plastic laminate. We can meet or exceed any specifications, ADA compliance, and LEED requirements. The washroom accessories from ASI or Bobrick can provide the finishing touches.
The Trusted Team for You
Our team is prepared to help you make the most of your commercial property with our high quality products. We assist our clients with all size jobs from large contracts to small tenant fit ups. We maintain an in stock selection on many key products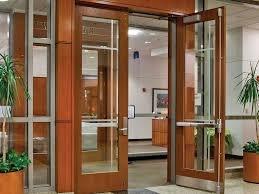 We're Ready When You Are
Our consultants can help you to find the perfect products for your needs. If you're looking to create a beautiful and functional environment for your commercial property, turn to the experienced team at Loranger Door and Window, today.